Provisionals and beginners Weekend - report and pics
by PCW ~, 22 December 2011
We had a good turn-out of for the latest weekend earlier in December dedicated to provisional members
and interested beginners.
Around 13/14 people were gathered into groups of 3 or 4 depending on their level of skill and experience.
A possy of SWCC volunteers arranged to take trips underground / tours of the cottage / slide shows or movies
and to cook a substantial meal for everyone on the saturday evening. (see feedback below)
As ever this was ably organised by Lizzy. We counted everyone in and back out again so it must have been a success!
Dawn and Chris enjoy helectites in OFD2 - PCW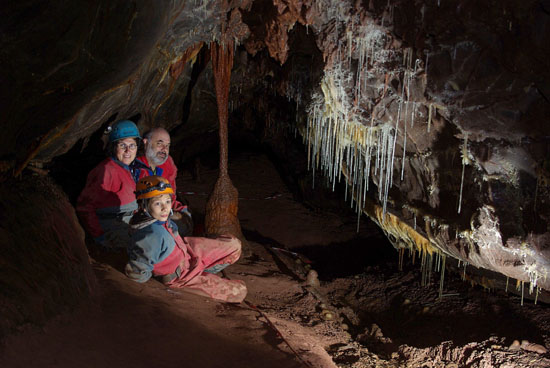 Rose, Aled and Howard at the Frozen River OFD2 - pic by Pete Hobson
| | |
| --- | --- |
| | |
| PCW, Dawn, Chris and Dyfed at The Trident OFD2 | Dinner provided on saturday evening! photos by PCW |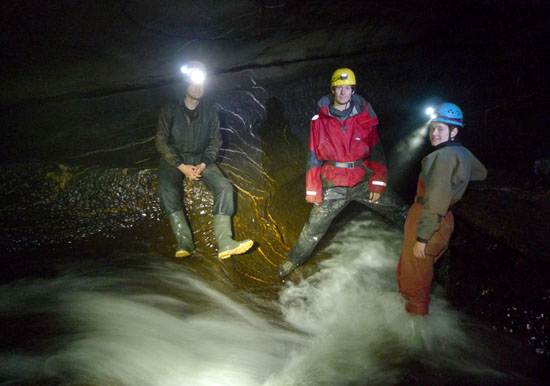 Dyfed, Chris and Dawn enjoy the "lively" OFD1 river - photo by PCW & Stenlight
Chris Latham's reflections on the weekend:

I suppose that most cavers must share a love of discovery. I discovered caving as a sport only a few weeks ago, at the start of December, when I came along to the SWCC provisional members weekend. It was a magical experience and if there's anyone reading this who's in two minds as to whether give caving a try, you'd be making a big mistake not to. I could wax lyrical about the eerie, alien beauty of caves we visited, perhaps compose a Haiku or two, but that would be missing the point. The real discovery I made that weekend was the club itself.
The SWCC is a group of friendly, enthusiastic, talented and exceptionally good-looking cavers from every walk of life, and they welcomed us with open arms. But how on earth do you go about organising a caving expedition for a group of people that you've only just met, most of whom are new to the sport? It must be a nightmare. I imagine there's usually someone who struggles to use the London Underground without succumbing to claustrophobia, and has spent their whole adult life repressing a rather traumatic memory from age six, when their uncle accidentally locked them in the broom cupboard. And in the same group there's bound to be a closet extreme sports enthusiast, brimming with undue confidence and determined to seize every opportunity to break his neck. Finally, there's probably going to be someone who misread the website and arrives at the clubhouse expecting to be met by representatives of the South Wales Crochet Club. How Lizzie and PCW and everyone pulled it off I have no idea, but they did. Of the dozen or so provisionals and beginners that came along I think that all of us came away feeling positive, happy, and exhausted.
Many thanks to those members who took the time to lead/assist with the expeditions, and more generally to everyone at the SWCC for giving us such a warm welcome. A particular thank you to Lizzie who, in her role as organiser, duty officer and head chef combined, made the weekend possible.
Chris
Provisional's weekend review by Bernard John

I was re-membered (isn't that nice way of putting it) to the club earlier in the year and grateful to join the Provisionals' weekend.
Gathering in the common room at nine thirty that Saturday, we must have seemed a fresh and excited crowd to the club members who were to accompany us underground. The scent of the log fire hung in the air and on the wall, which must have been three or four meters in length, the survey of the cave we were to visit - Ogof Fynnon Ddu. A myriad of passages twisted and looped over one another and a stream [river] running from right to left. We learned that it flows underground from the sink on the hillside above the club to the resurgence in the valley, out to the river Tawe.

I was teamed up with Gavin who had travelled from London the night before. Our leaders were Allan Richardson and Fred Levett. We kitted up with warm clothing and helmets. I wore boots but I noticed most people wore wellies. Our leaders posted the details of the trip on the board: where we were going, who was in the party, and when we expected to return, and we set off up the hill to OFD top entrance. This turned out to be a deceptively insignificant looking drift running a couple of metres down to a locked steel door to which Alan had a key.
Lights on, we made our way inside and waited for for a few minutes until our eyes became accustomed to the low light. The passageway was quite large and we could sense the great age from the stalagmites and stalactites. We experienced many such beautiful formations and took care to stay clear of delicate areas marked with warning tape. There were some exhilarating traverses and climbs such as President's Leap and Edwards Short Cut to be negotiated. But we succeeded without mishap thanks to the guidance of our leaders, who I sensed were monitoring myself and Gavin and carefully gauging or capabilities.

The evening meal has been referred to by Chris Latham. I would just like add my appreciation too; especially to Lizzy and to Lel. And I'm sure there were others too, without whom such a major undertaking could not have run as smoothly as it did.
Bernard
If you were there too and have any photos and/or a paragraph or two about your experiences, please send them to PCW