The Stationmaster's Granddaughter
by PCW ~, 28 June 2007
On Sunday 3rd June we had a visit from Anne-Marie Rhys-Evans. She is the Great Granddaughter of the Penwyllt Stationmaster Evan Evans!
Her Great Grandmother's family used to own a lot of the land around Penwyllt, and one of them built Craig y Nos castle before dame Adelina Patti bought it. She has memories of being taken to The Stump (also known as the Penwyllt Inn) as a child, and had dreamed of returning for a visit one day.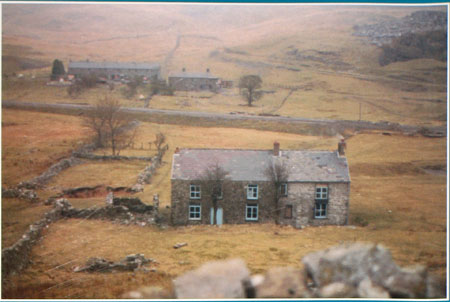 The Stump, Kershaw Terrace and 1-10 Powell St by Toby Dryden (early 1980's)
During the Brickworks heydays of the late 1800's and early 1900's the Penwyllt Inn provided liquid refreshment for the large working community of Penwyllt, and their families.
Anne-Marie has written a short history of the Penwyllt Inn:
"" Richard Davies (1800-1875), born in Ystradgynlais was granted a lease to dig fire cloy and fire sand by Claypon in 1843 and again in 1859.
On the 1861 census, he was living at Bwllfa, Abercrave with his family and described as a limestone merchant. By 1871 he had installed his son Daniel, plus his family at the Stump. Daniel was described as Inn Keeper.
In 1881. a young station master Evan Thomas Evans had arrived and was lodging with Morgan Morgan at 2 Penwyllt Cottages. In September he married one of Daniel's daughters, Jennet in Brecon. Daniel was a witness.
My great grandmother's name - I think the one you want - would be Anne (born Powell). She lived, as a child, at the farm you pass on the RHS as you go up the hill to Penwyllt. I think it is called Rhongir Isaf. When Daniel Davies remarried, his second wife was also called Anne (very convenient)!
In 1891 Daniel's son Howell was registered as the Inn Keeper. Daniel's wife had died and he had married the widow of the Red Lion, Abercrave. But he was at the Stump that night. One of Jennet's children was also there. She was Beatrice, aged 4, who was later to become a Bengree and live next door.
In 1901 there was another Inn Keeper, but still in the family. This was Rachel, daughter of Daniel. She was called Samuel at the time, and later married a Mr Wagg. Also in the pub were Howell, now a limestone merchant and another Evans daughter. This time Millie aged 15.
At some time in the 1920's Jennet and Evan returned to the pub. Evan having retired from the railway. Family stories tell that Evan, a deacon at Nant Y Finn chapel was uneasy with the selling of beer, and at sometime he moved next door with his daughter Beatrice and her family.
He died in 1935 and Jennet in 1948. ""
Photograph of the Evans family circa early 1920s
(courtesy of Anne-Marie Rhys-Evans)


Ernest, Edgar, Percy and Ivor
(Anne-Marie's father) on the back row.

Amelia Jane (Millie), Evan (the station master)
and Ewart on the front row.



Anne-Marie believes that Beatrice (Bengree) had rowed with her sister and would not appear in the picture and that the photographer was Clifford, another son.

Ivor and Ewart were probably at university when the picture was taken. They had enlisted from university in 1914 and had both gone to India. Ewart with the South Wales Borderers and Ivor with the Devonshire's. They both learned to speak Hindi and Persian.

Ivor joined the Political Service and was sent to NW Persia as PA to the governor of a province. On return, he completed his studies and became a doctor. Ewart was an engineer, and later taught engineering to Persian students - in Persian.
Ian Alderman and I showed Anne-Marie around The Stump and the Club and gave her a cup of tea.
Anne-Marie wrote us a lovely thank-you note afterwards, which I quote with her permission:
"" I write to thank you for such a wonderful visit on Sunday last. I was awe stuck by seeing inside the Stump, and I left with feeling of such warmth and camaraderie that the club house generated. I went and climbed to the almost top of Cribarth and sat and thought about it all. In that room above the bar, my great grandmother gave birth to my grandmother and that is probably where they all died.
Although it seemed a life of great hardship, I think they were probably better off than some. A rather frightening thought was that when my parents died and we three children were parcelled off to relatives - it could have been there!!! ""
by PCW with thanks to Anne-Marie