Peter I. W. Harvey: 27th May 1921 - 29th October 2009
An appreciation, by Jem Rowland, delivered at Peter's Funeral on 6th November 2009.
Peter Harvey was discoverer of Ogof Ffynnon Ddu, founder member of the South Wales Caving Club, its president for 33 years, a great character and a great friend.

Peter was born in 1921 at the North West Frontier in India, where his father was high-ranking army officer. His mother was from the Branson family, a name that is familiar today. Shortly after Peter's birth the family moved to the U.K. and settled first in the Mendips and then in south Devon. A visit to Wookey Hole at an early age sparked his interest in caves and later he explored holes he found whilst cycling around south Devon during holidays from boarding school.

He had a public school education at Clifton College in Bristol, though I had the impression that he hadn't enjoyed it much. Its saving grace seemed to be a school outdoor activities group that introduced him to the caving world. School was followed by a prestigious engineering apprenticeship with the Bristol Aeroplane Company at Filton, and Peter took the opportunity to cave with some of the main Mendip clubs and to develop a taste for digging for new caves.
World War II, with its pressure on the aircraft industry, put a temporary end to his caving but, as the war drew to an end, he began to cave again, particularly with the UBSS, the University of Bristol club, though he had to join as a so-called 'outside' member because he was not a member of the University. This brought him into contact with the Dragon Group, which was led by Gerard Platten. It was an informal group of mainly Mendip cavers, but also including some from South Wales. Its aim was to develop the caving potential of South Wales, particularly the Swansea Valley area. It led directly to the formation, of the South Wales Caving Club at a meeting held in the Gwyn Arms in 1946, with Peter as one of its founding members. Soon after, and following some careful investigation, came his discovery, with Ian Nixon, of Ogof Ffynnon Ddu, which of course became a cave of major international importance.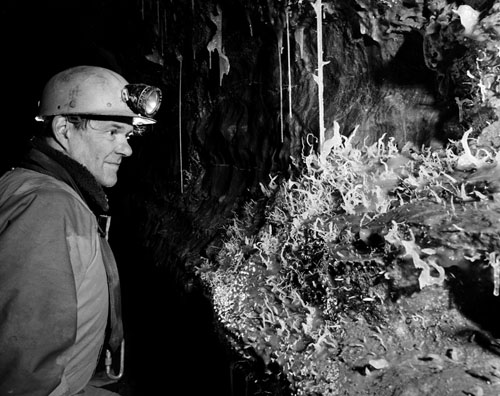 He always took great pride in this discovery and in the success of the South Wales Caving Club. He was delighted to be elected its President in 1976, a position he would hold, unchallenged, for 33 years. For most of his life Peter was a fit, capable, and inspirational caver with a nose for promising digs and new passage. He is, of course, the Peter in 'Peter's Pretty Passage' which, when we found it after Peter had looked upwards and spotted a hole, was one of the most finely decorated in the whole cave.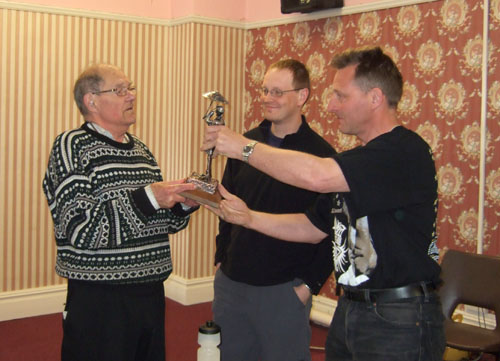 On his 60th birthday, accompanied by Bob Radcliffe, he completed the challenging trip from OFD I up to Smith's Armoury and back, determined to be the first person over 60 to do the trip. The fact that he completed it in not much over 8 hours is testament to his fitness at the time. Bob tells me that, to ensure success, Peter had insisted they rehearse it two weeks before!
Peter caved regularly until the age of 85, when he and I went via the OFD I streamway and up to Roundabout Chamber, on what was to be his final trip into the cave that he had dug into almost exactly 60 years before. His diaries reveal that, in all, he completed well over 900 trips into Ogof Ffynnon Ddu.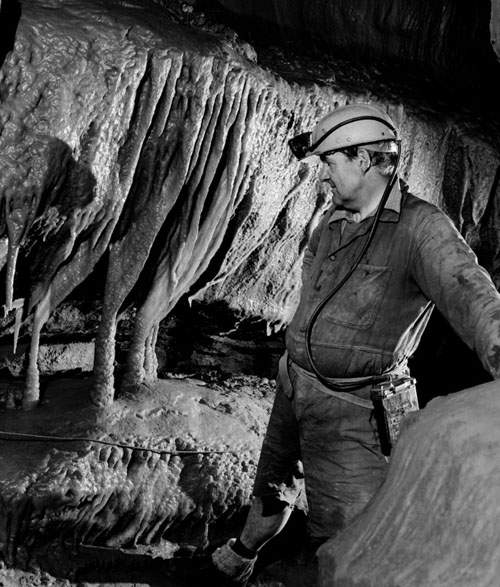 He took up cave photography in the late 1940s, in the final days of glass plates and flashpowder, and took some fine shots. He maintained that he was never as comfortable with film as with plates, nor as comfortable with bulbs or electronic flash as he was with flashpowder but, nevertheless, cave photography remained a passion for the rest of his life, recognised by a special award at the Hidden Earth national caving conference in 2004.
He had remained at the Bristol Aeroplane Company and its successor for many years following the war, later pursuing business interests in South Wales, and purchasing the stately Llandough Castle, near Cardiff, where he lived until 1963, when he bought a yacht and sailed off to the Mediterranean - for four years, during which time he explored caves in Sardinia and Tunisia. He returned to Bristol in 1967 and joined the team designing the supersonic Concorde.
At the end of the Concorde development, he applied for a job with a highly specialised gearbox design company at Rhayader in Mid Wales, a company which at that time was part of the Vickers Group. At interview he was shown a set of drawings of a particularly complex engineering design and was asked a technical question about them. His response was to point to a set of initials in the corner. They were his initials - it was his design! He got the job, and later became a director and joint owner of the company, working on the design of epicyclic gearboxes for wind turbines, battle tanks, and more. As a caving by-product of his skills, he designed the ingenious 'Sky Hook' for retrieving and replacing fixed ropes from high places.
I first met Peter when he returned from the Mediterranean in 1967, though I had certainly heard of him before that. I was talking to Clive Jones outside the Club at Penwyllt; a car drew up, Clive said "good grief it's Harvey". Peter walked up to us, scowled at me and said angrily to Clive "Who's that?". Clive said "that's Jem, he's ok" and thereafter we were the best of friends, frequently caving and digging together.
During the 1980s he used to come over from Rhayader to stay with us at home near Aberystwyth, to explore mines, to drink beer, and to enjoy being cooked for. He particularly enjoyed visiting when our strawberry patch was producing far more than we could eat - that wasn't a problem for Peter! I well remember his "Hmmmm… strawberries" and the copious quantities he used to eat.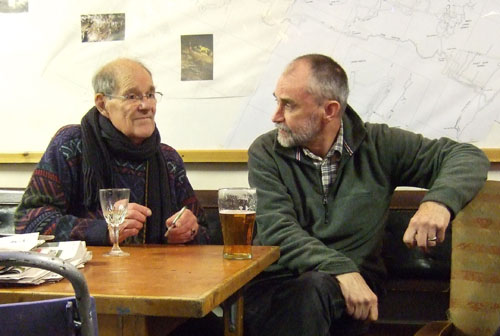 His caving career was not without mishap. The relatively innocuous traverse of 'President's Leap' in OFD II commemorates a momentary lapse of concentration that led to Peter's rapid descent onto the boulders below, miraculously without serious injury. On another occasion, while 'victim' on a rescue practice using an experimental stretcher of canvas and plywood, the head ropes were attached incorrectly. Suddenly finding himself dangling by the feet over a large drop, his somewhat characteristic comment was simply "Hmmm… what did you do that for?".
Despite his wicked sense of humour and the glint in his eye, he tended to be a shy and, for much of his life perhaps, a lonely character, with his close caving friends providing his 'world'. One of his closest friends, until his sad death in 1985, was Gwynne Sanders, whom many of us remember with great affection.
Meeting Wendy, in 1982, transformed Peter's life. She became a loving partner with an extremely supportive extended family. Possibly for the first time, Peter was truly happy, and remained so until Wendy's early, sudden and tragic death in 2003. It shattered him, and it was a trauma from which he never recovered.
Peter, you were a great friend, a great character, and one of the greats of the caving world. We will miss you.